What is PAT testing?
PAT testing or Portable Appliance Testing is a system of electrical equipment testing and record maintenance whereby all portable electrical appliances are tested in an organisation and checked to see if they are safe on a specified regular basis which varies on the uses and location of the appliance. Testing includes a thorough visual inspection of the appliance before a series of electrical tests are performed. The correct term for the whole process is "in-service inspection & testing of electrical equipment".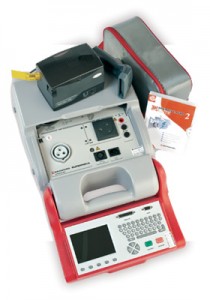 Testing equipment has been specifically developed for PAT inspections, based on the testing equipment used by manufacturers to ensure compliance with the British Standard Code of Practice and European product standards relevant to that type of appliance. We provide a full portable appliance testing and record provision system for any and all types of businesses.
Our fully certified engineers use modern testing equipment and labeling systems, thereby ensuring that your business complies with all H & S regulatory requirements and record keeping requirements. We can then provide you with digital and/or hard-copy versions of any reports required to make sure that your records are kept accurate and up to date.
If you require PAT testing, why not click on over to our CONTACT page and give us a call to discuss your requirements.